Here's more about how you can put lifecycle marketing into practice, and how it can assist you and your brand.
Just what is Lifecycle Marketing?
Lifecycle marketing is a new approach companies use to attract buyers and to keep customers coming back for more during their entire buyer journey. It is based on the concept that it is much easier to hang onto an existing audience that is loyal, and feels satisfied with your service than it is to acquire new clients or an entirely new audience.
Nobody wants to miss a sale in its final stages, but it happens. Lifecycle marketing will help you prevent this from happening by helping you understand the purchasing journey of potential customers in all its different stages. This will give you insight into the appropriate marketing activities to employ during the various stages of the marketing process, and this could turn prospects into paying customers.
Lifecycle marketing will help you communicate in an effective way with a prospective customer, a warm sales lead, or a returning customer, and enable you to engage at the correct level with each of them. It does mean that you need to have real insight into your target audience and that you need to be able to see things from their perspective. It also requires patience on your part while someone decides whether they want to buy from you. Never forget that a refusal today could turn into a sale in the future.
The Benefits of Lifecycle Marketing
There are many benefits to this kind of marketing for your business:
It can improve your brand image. If your approach is personal, your brand will benefit from being associated with one that provides customers with value, rather than just being about closing the sale. A customer who has been supported on his/her buying journey is more likely to return to you and your brand.
It builds long-lasting relationships with customers. This is preferable to just a once-off sale. It can also lead to customers choosing to buy from you willingly rather than feeling they have been influenced by aggressive marketing techniques. They could feel that you are trustworthy and that they can trust your brand.
Lifecycle Marketing versus a Sales Funnel
So what is the difference between these two? Quite a lot: it has to do with two opposite approaches to running your business and selling your products, and the difference lies in your attitude to people.
A sales funnel refers to the use of certain marketing techniques aimed at selling as many goods as quickly as possible. Basically, you are selling people a product they need, or one that you make them think they need.
Lifecycle marketing is different and much more people-focused. It is aimed at helping the target audience to solve a particular problem by using your product, and for you to become part of the buyer's journey rather than just making a quick sale. In short, treat the buyer as you would like someone to treat you if they are marketing a product to you. Lifecycle marketing has a more long-term aspect to it, and can develop into a respectful and ongoing relationship.
There is a point where a sales funnel and a marketing lifecycle do overlap, as both are aimed at attracting customers and persuading them that your product is better than that of competitors. It is important to remember, though, that forceful sales techniques belong to the past: users have more access to information and communication now and are also often in a position to terminate the conversation whenever they want to.
Both styles can be effective, but they work in different ways. The one which you choose can be a question of ethics.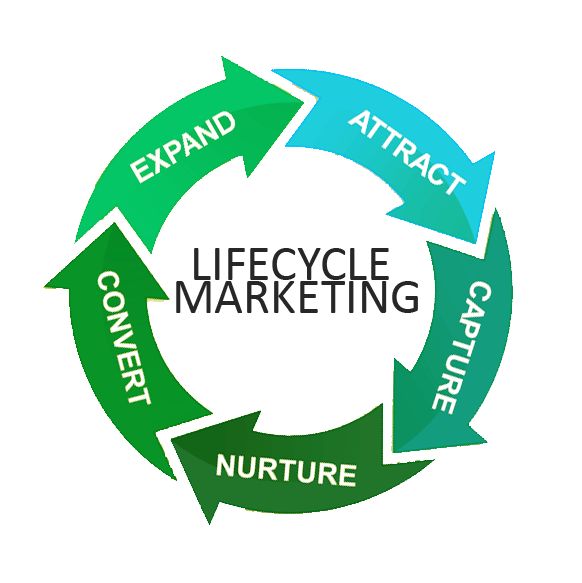 The Stages of a Lifecycle Marketing Model
It attracts attention
It can gain leads
It nurtures the relationship
It converts someone into a buyer
It retains the customer over time
It makes an ongoing relationship with a customer possible
Many people view a lifecycle marketing model as a three-stage strategy:
Attract attention > Convert > Fulfill
It means that you need to attract the attention of a potential customer, demonstrate/convince them that owning your product is to their advantage, and then fulfill their need for the particular product.
But that's just the bare bones of the process. You might very well want to create a more personal customer journey, one that is of such a kind that you yourself would like to be on the receiving end of it. You can do this by adding a few more stages to the process, thereby  changing it into a fuller experience for the potential customer:
Attracting attention > Gaining leads > Nurturing the relationship > Converting someone into a customer > Retaining the customer > Developing an ongoing relationship
Let's now view those stages in detail, by taking a look at an educational toy store as an example:
Attracting attention
To begin with, you need to attract the attention of everyone who would be interested in buying educational toys: parents, grandparents, educators, childminders,
babysitters, owners of daycare establishments, family members who want to purchase gifts. Then you
can use different types of Facebook ads that are highly targeted. In these ads, you can promise value to potential customers, such as: "Help your child/the children in your care develop their motor skills and reasoning skills."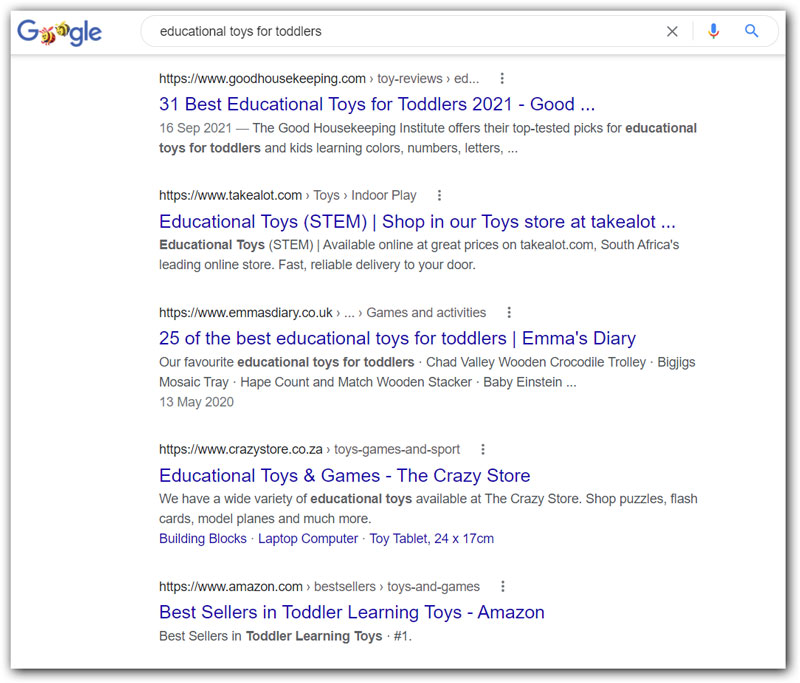 Without proper search engine optimisation (SEP) it is difficult to promote your services properly on the internet. An article that shows expertise in the educational field will appear high on the SERP (search results page) if the material is original, well-referenced, and you have made use of relevant keywords, such as "toddler milestones", "teaching motor skills", "educational toys for toddlers", "child development", "how to choose the right toys for your child".
There is another way to get to the top of SERP and that is to run Pay-Per-Click (PPC) ads.
Gaining leads
Once users have clicked on the ad, and been redirected to your website, you need to find a way to keep their attention, and to continue communicating with them. You want to draw them in. One way of doing that is to ask for an email address in exchange for something of greater value than that which you promised them in the ad. This could include videos on parenting tips/hacks, cute baby videos, information on developmental milestones, and so forth. These email addresses are handy for acquiring new leads as well as possible subscriptions.
Nurturing the relationship
The challenge at this stage of the customer lifecycle, is that you need to be in a position to provide content to meet customer expectations on a regular basis. You can start weaving in the sales element in a subtle way, such as "Check out the latest toy arrivals for toddlers." In order to achieve this, you can use any of the channels where your leads may be – SMSs, emails, chat bots, or you can put in something of everything, which together can make up your multi-channel marketing strategy.
Promising or so-called 'warm leads' will ideally become customers at this point.
But certainly not everyone – some people take a while before they are ready to buy, and they need to be nurtured, and be provided with further useful and interesting details about your product. Non-aggressive offers can be supplemented with feedback from other customers. This is often crucial in the decision-making process.
In order to nurture your customers, and to remove any doubts they may have, it is important to continue using the channels with which your subscribers are comfortable.
Converting someone into a customer
This stage is a crucial one in marketing – if this doesn't happen, your efforts have not been worth it. The buying process, as such, should be smooth and straightforward, and the buyer should feel that this is the right thing to do. If you are closing the deal by email, be upfront about any shipping costs or taxes, so that your customer does not get a nasty surprise later on.
It is always a good idea to make the physical packaging from recycled materials and to add some sort of bonus – such as a sticker to make the purchase feel like something special, and to make sure that the customer has a positive experience.
You can also consider creating chat bots for Facebook Messenger and Telegram as a platform for user queries to be answered, for the collection of orders, and for the promotion of your products.
Retaining the customer
The very basis of lifecycle marketing is that a sale represents only the start of a relationship. Once a customer of yours trusts your brand, and has made a purchase, you can support them by providing answers to their questions, and to be of assistance if they have any issues with the particular toy they have received. You can also provide returns and refunds.
Developing an ongoing relationship
This is the most rewarding stage of the whole marketing cycle.
Once somebody has become your customer, there are several things you can do to keep the relationship going. These could include upselling or cross-selling more products, or giving them a loyalty or bonus card, sending a referral link so they can send more customers your way, or just engaging them on an ongoing basis with valuable content.
The central idea associated with lifecycle marketing is that you want to keep users and buyers engaged after the conclusion of the sale. Therefore it is essential to continue communicating with them, and to carry on adding value, and in doing so, to increase the number of loyal customers you have, and to change them into brand advocates.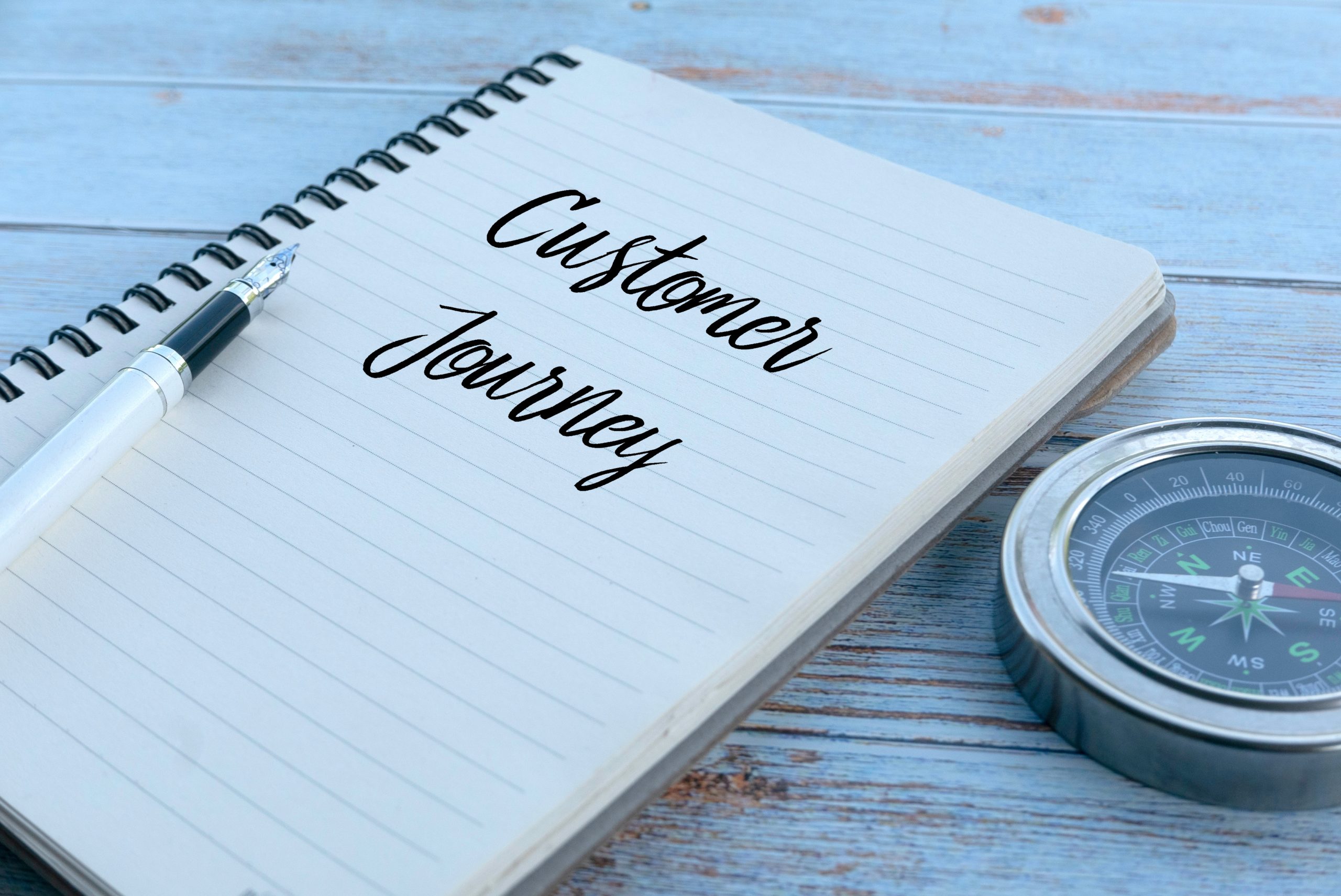 The Best Practices in Lifecycle Marketing
Automate some marketing channels
Be sure to add your clients to your Customer Relationship Management (CRM) System
Personalise communications with your client
Identify and minimise churn risks
Make use of segmentation
Automate some of the Lifecycle Marketing channels. Certain channels used for marketing can be automated. These include email workflows, which would facilitate certain processes such as purchasing and upselling. A chat bot makes immediate customer support possible, without your having to engage in answering queries on a daily basis.
Be sure to add your clients to your CRM system. You need to get to know your customers well in order to build any sort of long-lasting relationship with them. You need to know what their needs, their wants and their preferences are. Much of this information can be found by looking at their buying history. That will enable you to create highly targeted offers, which, in turn, can increase your revenue. Use a CRM system which enables you to automate sales, to monitor the sales progress, to collect information about your customers, and to communicate directly with your customers.
Personalise communications with your client. These days people expect a more personalised experience, in return for which many people are prepared to share information about themselves. Send personalised emails and SMSs, and try to use the chat bot to segment your audience. This will help you to solve certain issues more effectively.
Identify and minimise churn risks. Take a look at the customer journey, and identify any weak points there may be. The registration process may be too complicated, or emails may take too long to load. Hidden costs, such as shipping or taxes, could put customers off.
Make use of segmentation. All clients need to be segmented if you want to make lifecycle marketing work for you. You can use segmentation based on certain milestones, such as an abandoned shopping cart, or the date of a first or subsequent purchase, or a year from the first purchase to celebrate and strengthen the relationship.
24 Seven Digital are leading revenue engineers and focus on all parts of your businesses revenue generation process. We different from all digital marketing and lead generation services as we don't just work to get your leads but ensure your business is setup and working to covert as many of these into revenue. If you want to explore how we can help grow your business with our proven approach, please contact us at https://247digital.co.za/contact/