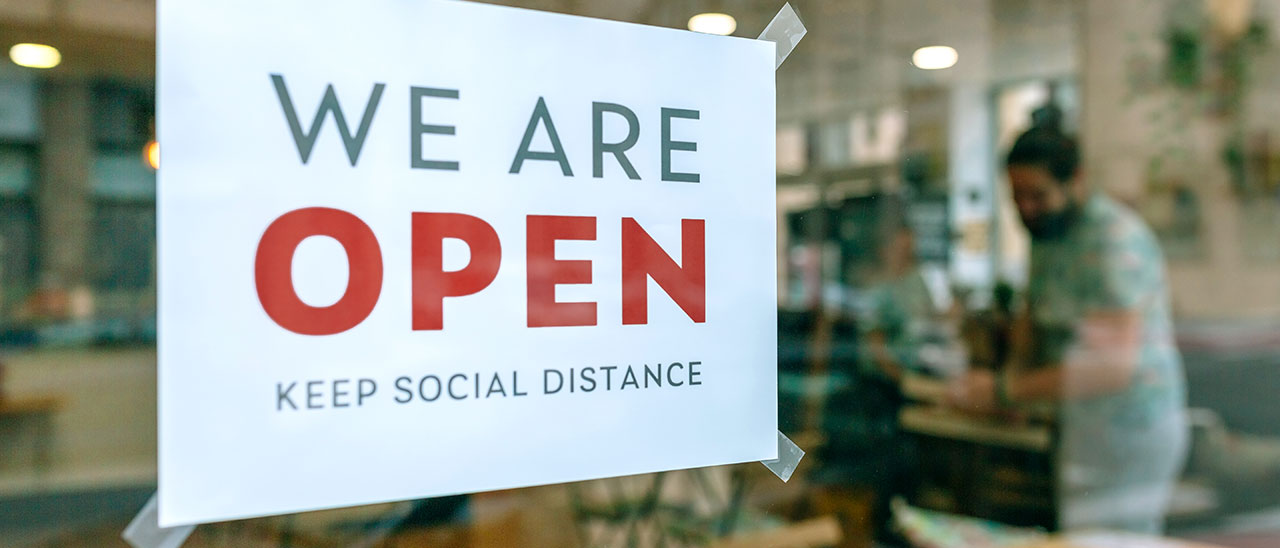 The pandemic brought about new challenges to many businesses, of all sizes.  Over the past eighteen months, things have reopened, but most businesses are not yet quite back to things as they were before the lockdowns. The focus remains on promoting safety and public health as things slowly get back to normal. It is essential to let all your customers know that keeping people safe is a priority for your business. At the same time, they should also realise that things are normalising in many sectors, as far as is possible within the existing regulations. With the levels of lockdown changing over time, not everyone has a clear picture of what the restrictions are in operating a business. You can use this uncertainty on the part of your customers as a post COVID-19 marketing opportunity, which could benefit both your customers and your business.
It is indeed difficult to do business in such a changed environment. This post brings you some post-COVID marketing tips that you should find useful.
How the COVID-19 outbreak affected businesses
In order to form a clearer picture of just how damaging this pandemic was to businesses, it is necessary to take a look at some data from this time. It must be remembered that this situation is a developing and changing one and that statistics are therefore more fluid than they would normally be. Here's a snapshot of the trends at the time of writing. This should provide you with a better overall picture of what happened.
The graph below reveals a striking trend in behaviour of both consumers and businesses over the first few months of the strict lockdown. It shows the trends in the field of deals that were closed and assessed – both are downward, and reveal just how unstable the economy was, and how reticent the buyer behaviour.  But, by the end of the graph, it is possible to see that things are moving in an upward direction again.
What this means on a practical level is that as things continue to improve, you can get a head start in getting your post-COVID-19 marketing campaigns going.
Total number of deals created and deals closed (worldwide Jan 2020 – Oct 2021 over 103 000 businesses)
The following chart paints a much more encouraging picture of the situation for marketers and is on this that the rest of this post will focus.
Total marketing emails sent and their open rate (worldwide Jan 2020 – Nov 2021 over 103 000 businesses)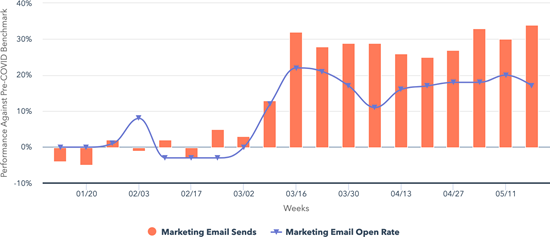 Source: COVID-19 Marketing and Sales Benchmark Data by HubSpotThis graph reveals that many brands sent more marketing e-mails to clients at a level significantly above their pre-COVID numbers.   And that's not all – they are not only sending a larger number of e-mails but there is a much higher opening rate than before. In these strange times, this, at least, is one piece of good news. You can make use of this advantage of increased engagement from your leads and existing customers to recover from the losses incurred because of the pandemic and the lockdown.
Post Covid-19 marketing tips
So, the news is not all bad, as it turns out that marketing leads are showing a higher level of interest than before in the e-mails they receive. So, what changes should you make to your marketing e-mails as you get back to normal after the last eighteen months? Here are some specific things you can do to improve the performance of your business. Check out these post-COVID-19 marketing tips and get up and running again.
Communicate clearly about the safety measures you are taking
The pandemic may be abating, in South Africa, anyway, but the danger posed by COVID-19 is not over. It is very likely that you have changed your day-to-day business practices to ensure the health of both your employees and your customers. Your customers need to know that you take these precautions seriously.
These measures could entail a wide variety of things, depending on the nature of your business: this could range from checking that masks are worn by everyone, changing your business hours, limiting the number of people in your premises at any given time (depending on the changing regulations), promoting pickup, or safe contact-free delivery, and telling your customers clearly about the precautions that you are taking. This will make them realise that you not only care about their safety but will also be a reflection on your brand in the months to come. You can indeed use the situation to your advantage by turning a necessity into something positive.
An e-mail could be used to explain what the brand is doing to keep everyone safe – now and in the future. You could even include a video to show the health practices of your business and to illustrate the changes in the workflow, if any. This type of e-mail should ideally not include any promotional material or messages at all. It simply addresses the customers directly and honestly and tells them what they can expect from the brand.
This will help to get your message across in a clear manner.
Tell customers about any changes to your services
This tip goes along with the previous one. Once you have told everyone what you are doing to keep staff and customers safe, you want to get information across about any possible changes to your business or services. Many businesses have decided to cut down on their workflow or to cut back on some of their product lines, because of safety or financial concerns. Your customers want to know what is happening with your business, and how it will affect them, so a post-pandemic marketing campaign is the ideal time to tell them what is going on.
There may very well be changes to your shipping times, your product availability and/or pricing, the number of branches you have, or any other important changes of which they need to be informed. Unlike the e-mail about your safety protocols, this email can contain some promotional content – but not too much. It should mostly focus on giving direct information to your clients. It might create the wrong impression if you use this opportunity to give too much product information or to promote sales of any kind.
See things from your customers' perspective too
During the extended Covid-19 outbreak and subsequent lockdowns, things have changed drastically for many people – and possibly also for your brand. Now is your chance to relate to what your customers have been experiencing. Be transparent about these changes, as it will make them feel that as a community we have all been through something difficult together. Shared experiences can be a very powerful connecting tool.
Appeal directly to your customers by letting them know that you understand and sympathise with their struggles during this time. If you communicate in a meaningful way with your customers by e-mail, it will humanise your brand and will not make them feel as if it were just another bulk e-mail marketing campaign after the pandemic. Personalise your e-mail, and use emotional and heartfelt text – it will speak to them. Take a look at how you can rework some of your existing e-mail communication to adapt to this context.
Keep your marketing budget in mind
Let's focus on one other aspect of your marketing besides the content of the messages. There is one area in which your marketing messages will no doubt have been affected: the pandemic has dented the income of just about all businesses. If you have experienced losses during this time, you may be looking at potential areas where you can cut your expenditure.
The marketing budget is often one of the first casualties when budget constraints are experienced, but it's worth remembering right now that the performance of marketing e-mails appears to be very good right now, so it would be counterproductive to cut costs there. But you nevertheless should reduce costs as much as possible, so by all means search for a cost-effective marketing platform to use to get your message across. With this in mind, it will be worth your while to take the time to investigate special offers or good deals of which there are currently quite a few available owing to the pressure many businesses are experiencing. Take a look at marketing platforms that offer you multi-channel support, as this will enable your marketing campaigns to grow as your business does.
Using more marketing channels
As businesses are slowly returning to pre-pandemic levels of activity, it is the right time to consider using further marketing channels. Apart from any other consideration, the way people use the internet has changed considerably in the few months that people have spent largely at home. Regardless of the pandemic, internet usage was on the increase anyway before the pandemic hit, and according to Forbes magazine, by June 2020, internet usage has increased by a massive 61%.  As your clients are spending more time on social media, it follows that your business would benefit from developing a social media marketing (SMM) strategy.
If you are already using multiple SSM platforms, now is the time to consider how best to structure your messages to fit in with the current realities in the business world.
Marketing after Covid-19: top strategies 
These are trying times, which makes it all the more important for businesses to communicate with their client base. And the news is certainly not all bad, as now is the time to take advantage of high-then-normal opening rates as people are spending even more time online. You don't have to rewrite all your marketing materials entirely, but you do need to adapt them to meet the needs of clients in the current situation. Ultimately you want to keep your business running, and your customers safe during this difficult time.
24 Seven Digital are leading revenue engineers, and we focus on all parts of the revenue-generation process of your business. We are different from all digital marketing and lead generation services, as we don't just work to get your leads, but also ensure your business is set up in such a way that these leads are converted into revenue. If you want to explore how we can help grow your business by means of our, please contact us at https://247digital.co.za/contact/